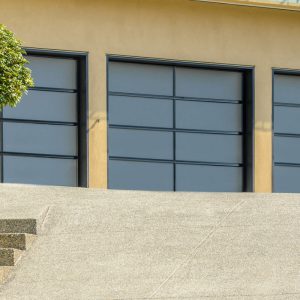 if you're a local shop owner in or around Framingham, MA, then we'd love to extend our services to you today. Our commercial door repair services are second to none, and we've helped shop owners, store managers and mall operators with the installation, maintenance and repair of their doors and access points for years now. Your requirements are our priority and that's why we'll never provide a standard quote – in fact we'd be more than happy to evaluate your exact needs to gaze the right price for your project, without any hidden charges
Installing Commercial Doors
Your store's doorway is a very important aspect to consider, and it should be solid, sturdy and remain proof against all forms of tampering. No matter the size of your access point, our team of experienced door fitters have access to some of the most reliable commercial garage doors on the planet – making your installation as simple as pulling a bath plug. Give us a call today to learn more, or to share further information on the size and shape of your access point in preparation for our arrival.
Implementing Security Features
One of the main reasons why so many shopkeepers turn to us, is so that we can make sure that their properties are well equipped to deal with potential criminals hoping to gain access. We utilize the most reliable locks, security mechanisms and devices to maximize the chances of your premises remaining safe and secure at all times. Not only this, but we'll even maintain or upgrade your current door security features to keep them in line with market standards.
Door Repair
If your commercial door has recently suffered with damage, then the chances are that you'll want the matter rectified as quickly as possible. Not all doors will need replacing, in fact we're able to gage the exact type of repair work needed and we can even remove dents from doors in less than an hour. Should your door's functionality be compromised, our team will do everything that they can in order to return it to working order, and if a repair isn't an option – we will offer to replace your door there and then.
All that you need to do is to give us a call and our professional team will be able to advise you on your project, provide a quote and book you in for repair or maintenance.